Annual Report 2022 celebrates partnerships in care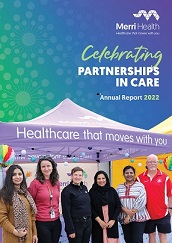 Published Dec 02 2022
The Merri Health Annual Report 2022 is now available. The report demonstrates our impact, achievements and the key challenges our organisation faced in the 2021-22 financial year.
Merri Health continued to grow in revenue and reach, expanded our services and increased access and supports for individuals and communities, while navigating the ongoing impacts of COVID-19.
This year's report theme Celebrates our Partnerships in Care with consumers, community and more than 140 value-aligned organisations.

Merri Health CEO Tassia Michaleas said, "A key success this year has been our ability to continue to foster positive, collaborative partnerships with a broad range of key stakeholders that have improved health, social and community outcomes."
"We are particularly proud that Merri Health was a Finalist for the Victorian Premier's Primary Health Service of the Year Award in recognition of our vast and enhanced service offerings."
Key achievements included:
COVID-19 safety support, vaccination delivery and education 
launched our Smile Squad school dental program
set up Assistive Technology library to support people with dementia
grew our Chronic Pain service and reduced the burden on hospitals
launched our Hello! Moreland program to build social cohesion in Merri-bek
led the Elder Abuse Prevention Network across the north and west of Melbourne, and
became an access point for the Hume-Moreland 'Orange Door' in response to family violence
reached over 30,000 residents in Fawkner alone with community led events
provided over 22,211 carers with support across Victoria
increased employee engagement by 10%
The annual report was launched at our Annual General Meeting on 29 November, hosted by Board Chair Julie McCormack.