Carers Week 2020: Consortia Calendar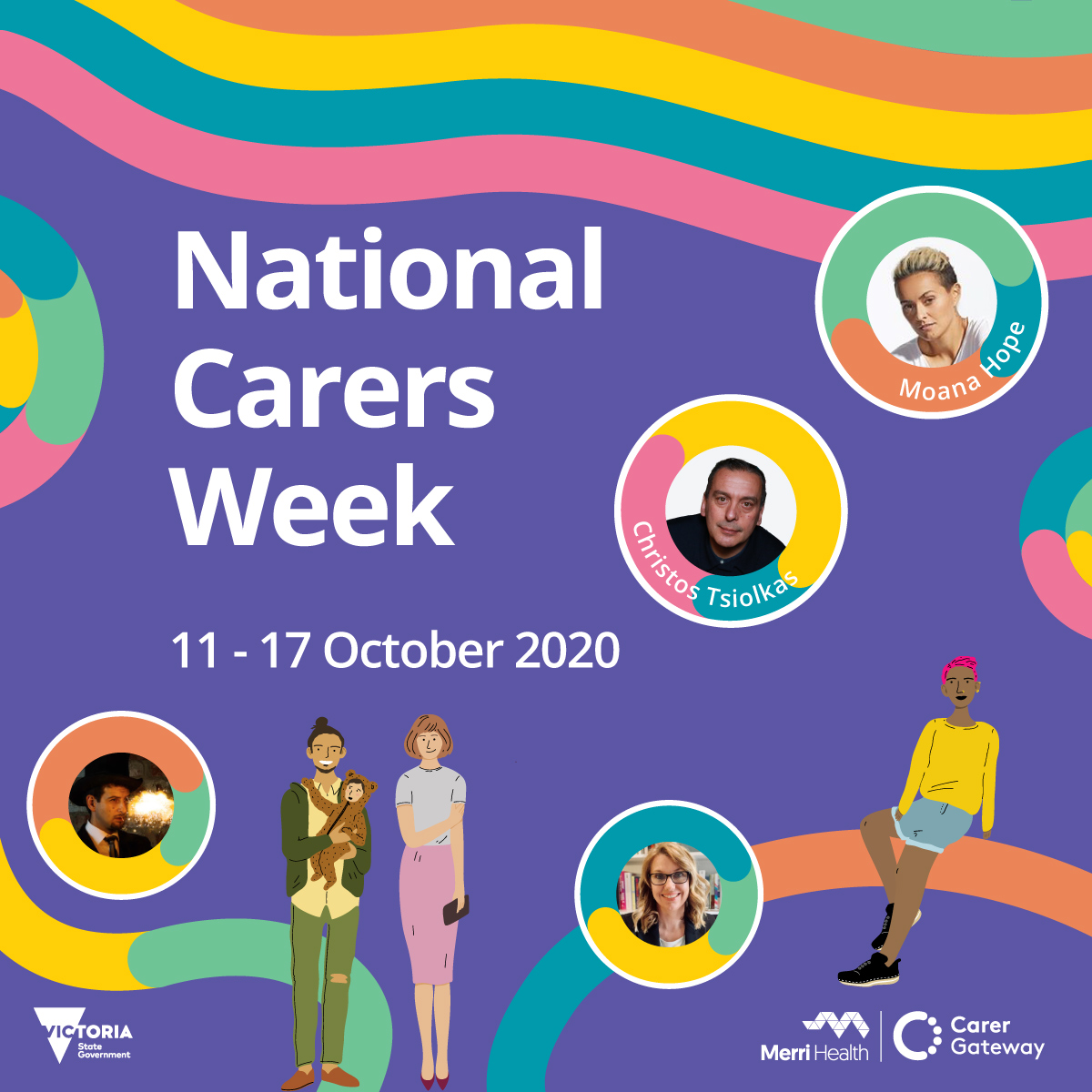 Details
Date

Oct 11–16 2020
National Carers Week is a time for all Australians to recognise and celebrate the important contributions that unpaid Carers make to our communities. It is also an opportunity to raise awareness among our communities about Carers and their caring roles.
Please take a look below at how the Carer Gateway consortia is celebrating Carers Week across Victoria.
Please note, some events are open to all carers, whereas some are reserved for carers within the service provider's catchment area. If in doubt, please check with the organisation directly
Carer Gateway: Carers Week Calendar 2020
Carer Gateway events - for all carers
In Conversation with Moana Hope

Sunday 11 October, 2-3pm

Join us for this free virtual Q&A as we discuss Moana's career as a trailblazing ambassador for gender equity, whilst simultaneously caring for her younger sister Lavina ('Vinny'). In this informal conversation, hear Moana's carer journey; the challenges, the successes, and how her relationship with Vinny continues to inspire her.

Registrations:
https://www.eventbrite.com.au/e/122654207035

Information:

communications@merrihealth.org.au

Mindfulness Workshop with Marion Miller

Tuesday 13 October, 12-1pm

Mindfulness Coaching involves learning specific meditations and practicing skills that integrate the mind and body and give rise to insight. This workshop with Lifecoach Marion Miller will introduce you to techniques to reduce stress, anxiety and depression and develop resources for sustained change.

Register in advance for this meeting:
https://us02web.zoom.us/meeting/register/tZYpfuyhrTgoG92K5-SyxNkh756UfzKFvrRn

Carers Week Online Trivia Night!

Thursday 15 October, 7 - 8.30pm

Come along and enjoy online trivia! Winners will receive a PRIZE!

Get your snacks ready and gather around the computer to enjoy a 90 minute online trivia game! Grape Vine Events will deliver a very entertaining show for you to enjoy all from the comfort of your own home! This is a FREE event! RSVP now!

https://www.eventbrite.com.au/e/carers-week-online-trivia-night-tickets-121673228903

Webinar: Inside the Carer Gateway

Friday 16 October, 1.30 - 2.30pm

 Find out how simple it is for carers to register with Carer Gateway to access services in person, online and over the phone. A webinar hosted by Carer Gateway and Uniting Vic.Tas. This free, informative webinar for Carers Week 2020 will take you through: The Registration Process; Assessment & Planning, and: What is Carer STAR?
Carer Gateway consortia activities and events!
Please note some events are reserved for carers or people living within the organisation's area of service.
Alfred Health Carer Services (events reserved for carers receiving support via Alfred Health)  

 Event
 Date
 Details
Register

My Morning Matters - connect & energise activities

All Carers Week long

A week of activities from Monday 12 October to connect carers with other carers, and get 'up and active'. Activities include Zumba, Qi Gong, Laughter workshop, Tai Chi, Dance and more: Expressions of interest will be required a week in advance for most of these events to arrange for registration (for new carers) and send out of zoom link etc. 

Visit www.carersouth.org.au/events for more information.


Celebrate Carers - Lunch and Laugh

14 October

Sit down to a tasty lunch delivered to your door while you watch stand-up online,

 Visit www.carersouth.org.au/events for more information. 

Trivia Quiz and Lunch

16 October, 12 - 2pm

A fun filled trivia session at home with a tasty lunch delivered to your door

 Visit www.carersouth.org.au/events for more information. 

Digital Dance Club, all welcome, LGBTIQA+

15 October, 4-6pm

LGBTI carers, get up and get moving for a digital dance-off!

 Visit www.carersouth.org.au/events for more information. 

Arabic speakers class - Make a  Mosaic candle holder

15 October, 2-3pm

A class for all people from an Arabic speaking background to get crafty with candle holders

 Visit www.carersouth.org.au/events for more information. 

Movie Night - Mr Velvet Ears

12 October, 7.30-9.30 pm

Mr Velvet Ears follows the experiences of Anne and Edie as they make the difficult decision to access a residential aged care home for Edie, who lives with younger onset dementia. Anne and Edie have been together for 35 years. The film is shot through the eyes of Mr Velvet Ears, their dementia assist dog; adding warmth to the difficult topics addressed in the film.

 Visit www.carersouth.org.au/events for more information. 

 

 

 

 

 

Family Care

Carer Health & Wellbeing - tips for practicing self-care

Thursday 15 October 10.30 - 12pm

In 2015 Alison noticed something wasn't right with her husband. In 2018 he was diagnosed with younger onset dementia. Alison is looking forward to sharing more about her carer journey and how she finds the sunshine in her day even when the clouds are dark and stormy.

This is a free event – please register via Eventbrite by Tuesday 13th October 4pm. Contact Jason 0429 963 164 or Kylie 0409 086 366

 

 

 

 

 

Merri Health  

Online Workshop: Building Resilience 

Friday 16th October 11am 

** Note new time!

We invite you on a building resilience journey with Amy Livingstone, the founder of ResilientOne Global and certified HeartMath trainer. This webinar will explore practical strategies to grow our resiliency baselines for better mental health and wellbeing. Amy will share her fascination with restored resiliency and her personal insights from chronic illness along with simple and proven resiliency tools for daily life. 

 https://us02web.zoom.us/webinar/register/6916018811518/WN_I-sTSQg6Sw62jNUv-AJk4Q

Christos Tsiolkas: in Conversation for Carers Week

Thursday 15 October, 1pm

This 1.5 hour webinar Carer Health Coach Margaret Tzankos will be joined in conversation with bestselling author of The Slap, Christos Tsiolkas. Margaret and Christos will discuss our common humanity, vulnerability and need for connection, during this global pandemic. Christos will also take questions from session participants for the final segment of the session. 

https://www.eventbrite.com.au/e/christos-tsiolkas-in-conversation-tickets-123555855891

Paolo's Healthy cooking at home

Wednesday 14 October, 1.30pm

Are you often not sure where to start when it comes to healthy cooking? Do you feel uninspired in the kitchen? How is it possible to have fun cooking and feel better? Live from his restaurant kitchen in Fitzroy, Chef Paolo is here to show you his top tips to inspire your cooking in the kitchen and most importantly to have fun! Every registered participant will be couriered Paolo's exclusive handcrafted Risotto Chef Kit including his delicious risotto recipe instructions to try at home. 

https://us02web.zoom.us/webinar/register/4516018791413/WN_wdpz_3HcSwiUUvBVLNCSAw

 

 

 

 

 

Ballarat Health Services  (events reserved for carers receiving support via BHS)   

Write Your Cares Away

Monday12th October, 1.30 - 3pm

This workshop explores how writing about your thoughts and feelings can reduce stress and grief and contribute to positive health and wellbeing.

You will be invited to share your writing if you want to. You can write in any language and spelling and grammar are unimportant. You can just write words, dot points or short sentences or a longer story, as you wish!

RSVP BEFORE 8 OCTOBER IF YOU WISH TO ATTEND 
PH 53337104 and Tracey and Linda will put your name on the list.

Magic Show

Tuesday 13 October, 1.30 - 3pm

 Join us for this great show of entertainment. No face to face event this year, but this online show will give us the opportunity to invite a guest live from Sydney. John has 5 star reviews and great testimonials. This show promises to provide magic in your own home, on your own couch, live!

For people registering for this event we will take on the challenge and 'magically' try to provide you with an afternoon tea surprise as well. Please allow us to dazzle you today with the impossible

 RSVP BEFORE 8 OCTOBER IF YOU WISH TO ATTEND 
PH 53337104 and Tracey and Linda will put your name on the list.

Caring for yourself (health and well-being)

Wednesday 14 October, 1.30 - 3pm

 Being a carer can make you lose sight of your own needs. How do care you for yourself as well as caring for others? Let's explore why your health and wellbeing are very important and share strategies to help you care for yourself.

 

 RSVP BEFORE 8 OCTOBER IF YOU WISH TO ATTEND 
PH 53337104 and Tracey and Linda will put your name on the list.

$$ On the Money $$ (Financial Counselling)

Thursday 15 October, 10.30am - 12p

Meet John Bradshaw – Community engagement officer and Kim Arthur – Financial Counsellor both working for Child and Family Services.

John and Kim will be speaking about anything money matters related to caring for someone else. The presentation will be followed by a Q and A. We hope that you will bring your questions with you, or email them to us beforehand, so we can all learn from each other as we are dealing with the current challenging times.

RSVP BEFORE 8 OCTOBER IF YOU WISH TO ATTEND 
PH 53337104 and Tracey and Linda will put your name on the list.

Memory Mingle Support Group - Music Workshop

Friday 16 October, 1.30 - 3pm

 This workshop for Carers of a person with memory problems and the person they care for. It explores the value of music in our lives and how incorporating it into our day may contribute to positive health and wellbeing. Participants will have the opportunity to share and reminisce through this variety of songs and lyrics.

RSVP BEFORE 8 OCTOBER IF YOU WISH TO ATTEND 
PH 53337104 and Tracey and Linda will put your name on the list.

 

 

 

 

 

Uniting Vic.Tas (events reserved for carers receiving support via Uniting Vic.Tas)     

Live Comedy Event – Simon Kennedy

Monday 12 October

11:00am-11:30am

World-Class stand-up performer Simon Kennedy will be delivering a private comedic performance.

https://www.trybooking.com/BLMVV
Events are capped at 100 carers per event

Zumba Class (Latin-inspired dance/workout routine)

Wednesday 14 October

10:00am-11:00am

The class is performed with upbeat music and involves basic dance movements that will work all parts of your body. Suitable for beginners!

https://www.trybooking.com/BLMVY Events are capped at 100 carers per event

Yoga Session – KB Movement

Wednesday 14 October

4:00pm-5:00pm

This class will focus more on revitalisation. Holding a space for you to rejuvenate and perhaps realign your potential imbalances. Suitable for beginners!

https://www.trybooking.com/BLMWA Events are capped at 100 carers per event

Live Musical Performance – Tom Harrington

Thursday 15 October

3:00pm-4:00pm

Tom Harrington will be performing a range of well-known covers. His unique musical style has an upbeat energy to facilitate a relaxing and stress-free environment. Requests for particular songs will be welcomed.

https://www.trybooking.com/BLMWE Events are capped at 100 carers per event

 

 

 

 

 

Barwon Health

 

 

 

 

 

 

 

 

 

Bendigo Health  

Tai Chi

Monday 12 October, 11am

Stretch it out at home with this free Tai Chi session

https://www.eventbrite.com.au/e/carers-week-2020-tai-chi-tickets-122196909245

Writing Competition

Monday 12 - Thursday 15 October

Tell us in as many or as few words as you like how Carer Gateway/Carer Support Services may have brightened your day recently.

Entries open on Monday 12 October and close on Thursday 22 October. The first 100 entries WIN a hamper of goodies!

.

Send entries to carersupportservices@bendigohealth.org.au; reply paid envelope or via the Bendigo Health Facebook page.

Webinar: Welcome to Carer Gateway (Loddon Mallee)

Tuesday 13 October, 11am

An opportunity to learn more about Carer Gateway.

Registrations via Eventbrite

https://www.eventbrite.com.au/e/carers-week-2020-welcome-to-the-carer-gateway-loddon-mallee-tickets-122198814945

 

 

 

 

 

Little Dreamers (event available for young carers across Victoria)  

Young Carer Talent Show

Friday October 16, 6-8pm

 Are you a dancer? A budding comedian? A super speller? Can you recite the alphabet backwards in less than 10 seconds? We want to see your talent!

If you're a Young Carer and keen to show off a hidden (or not so hidden) talent of yours, register for free.

The talent show will take place live via Zoom, and we'll give you a link to join the day before the event along with an approximate time of your performance. You can also choose to submit a prerecorded video to emma@littledreamers.org.au if you're unable to perform on the day.

 https://www.littledreamers.org.au/event/young-carer-talent-show/

 
 
 
 

Carers Victoria 

Young Carers ISO Zoom Evening

 

Carers Victoria will be hosting a special event for young carers and their families featuring popular lockdown comedian Nat's What I Reckon and Carer Champion Michael Casha. We'll also be joined by Little Dreamers to hear more about their new online platform for young carers The Dreamer's Hub.

https://www.eventbrite.com.au/e/young-carers-iso-zoom-evening-7619-registration-122210429685
Services & events individually funded by  
 &