Residents' labour of love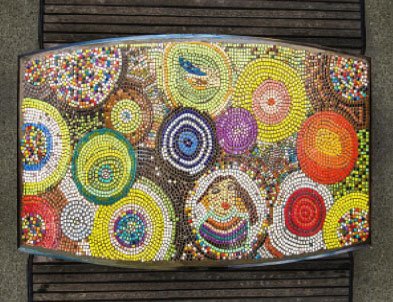 Published Dec 07 2016
Residents have had their artwork, a mosaic table, chosen by Minster Martin Foley to feature on his 2016 Christmas card!
The artwork creation was part of a garden transformation by The Queens Lodge art group, who set out to create a communal and relaxing space for residents of the lodge with the support of Merri Health and Arts Access.
The Queens Lodge is a supported residential service that offer accommodation and low level of care for people who need support in everyday life, such as people who are frail or have a disability.
After 18 months of hard work, the residents now have a space that they can enjoy! The project, named "Bringing Country Home," had residents involved in the design, creation and helping in the manual labour of the garden.
The garden is an important space for the residents as it is where most of them meet and walk through on a daily basis. As such, different spaces were created so that there were quiet and social areas.
Not only has this been a busy time for the residents, it has been a journey that has empowered them to have ownership of the space in which they live. The residents said that it has been a rewarding and productive process.
The Queens Lodge art group has existed for a number of years and in this time has developed many projects. The first of these was "Connecting to Country," which had the residents creating art to explore their relationship to Australia's native landscape.
To find out more about how we support Supported Residential Services and its residents, go to mental health support services.