Rainbow warriors unite!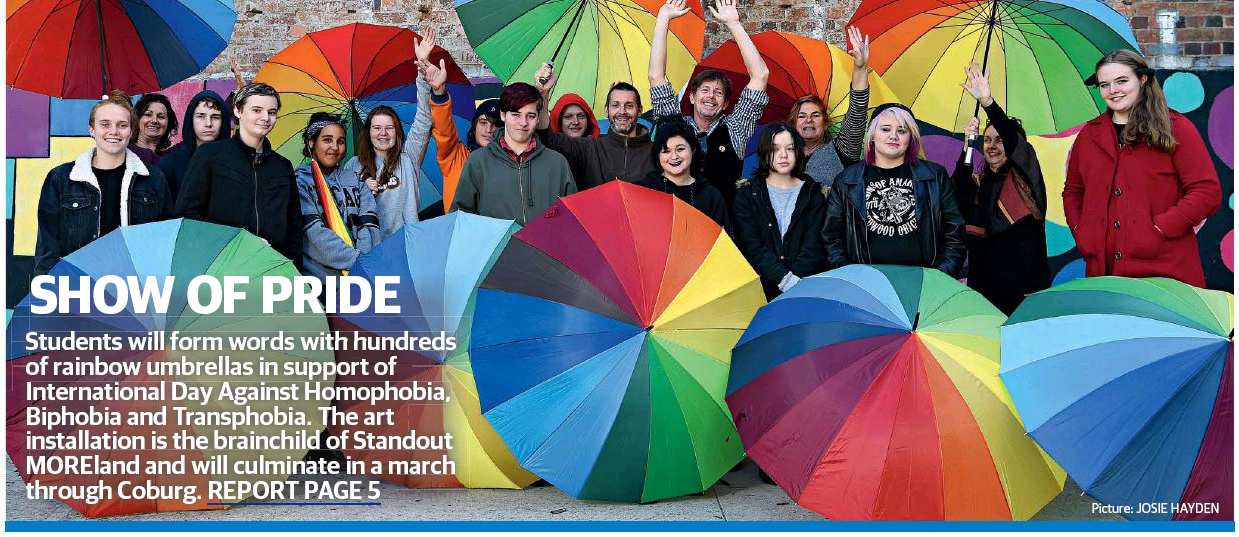 Published May 17 2017
Moreland played host to one of its largest rainbow events as part of International Day Against Homophobia, Biphobia, and Transphobia (IDAHOBIT).
The live art exhibition saw more than 500 Moreland students and locals take part in the large-scale filming which we've released today, in support of IDAHOBIT. Messages of support are  projected via a choreographed exhibition using rainbow umbrellas and captured via a drone.
Merri Health's YGLAM project officer Russ Pirie said that the rainbow procession showed Moreland's commitment to creating a safer and more inclusive community.
"It's an opportunity for the community to come together and show that they care about the wellbeing of queer people living in Moreland, creating safe spaces for all," said Mr Pirie.
Moreland Mayor Cr Helen Davidson said that the video release of the event will ensure Moreland continues to acknowledge and accept our queer community beyond IDAHOBIT.
"It is so important that we come together not just when IDAHOBIT comes around, but every day.
"Moreland's diversity is one of the municipality's greatest strengths and that is something to celebrate," said Cr Davidson.
IDAHOBIT is an annual celebration of sexual and gender diversities, raising awareness of the violence and discrimination experienced by this group.
The event is led by Merri Health's queer youth ensemble YGLAM and supported by Moreland City Council. It marks the anniversary of YGLAM's social media campaign This Campaign Is Queer that supports young queer people via social media connections.
Watch the video