Our Annual Report wins GOLD!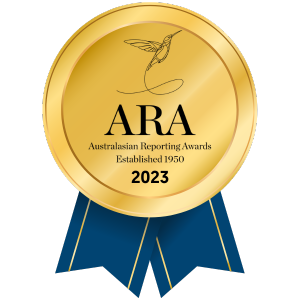 Published Jun 16 2023
We're delighted our Annual Report has been awarded GOLD in the 2023 Australasian Reporting Awards (ARAs).
The awards recognises excellence in reporting and transparent, balanced communications benchmarked against world best practice criteria.
Our 2022 Annual Report judged in this year's awards celebrates Merri Health's Partnerships in Care with over 140 organisations, and leading healthcare outcomes.
Merri Health Marketing and Communications Manager said, "We're absolutely thrilled to be recognised for our willingness to communicate transparently and effectively through our stories, achievements and challenges in this report." 
"We're proud of our successful, collaborative partnerships with over 140 value-aligned organisations to deliver critical world-class care and respond to the needs of our community." 
This is the first year Merri Health has achieved gold for our Annual Report in the ARAs, after receiving silver in 2022 and 2021.
The national awards were announced at the 73rd ARA awards in Sydney last night.
Take a look at our 2022 Annual Report.
Keep an eye out for the 2023 report later this year!