New Innovate Reconciliation Action Plan 2022-23 launched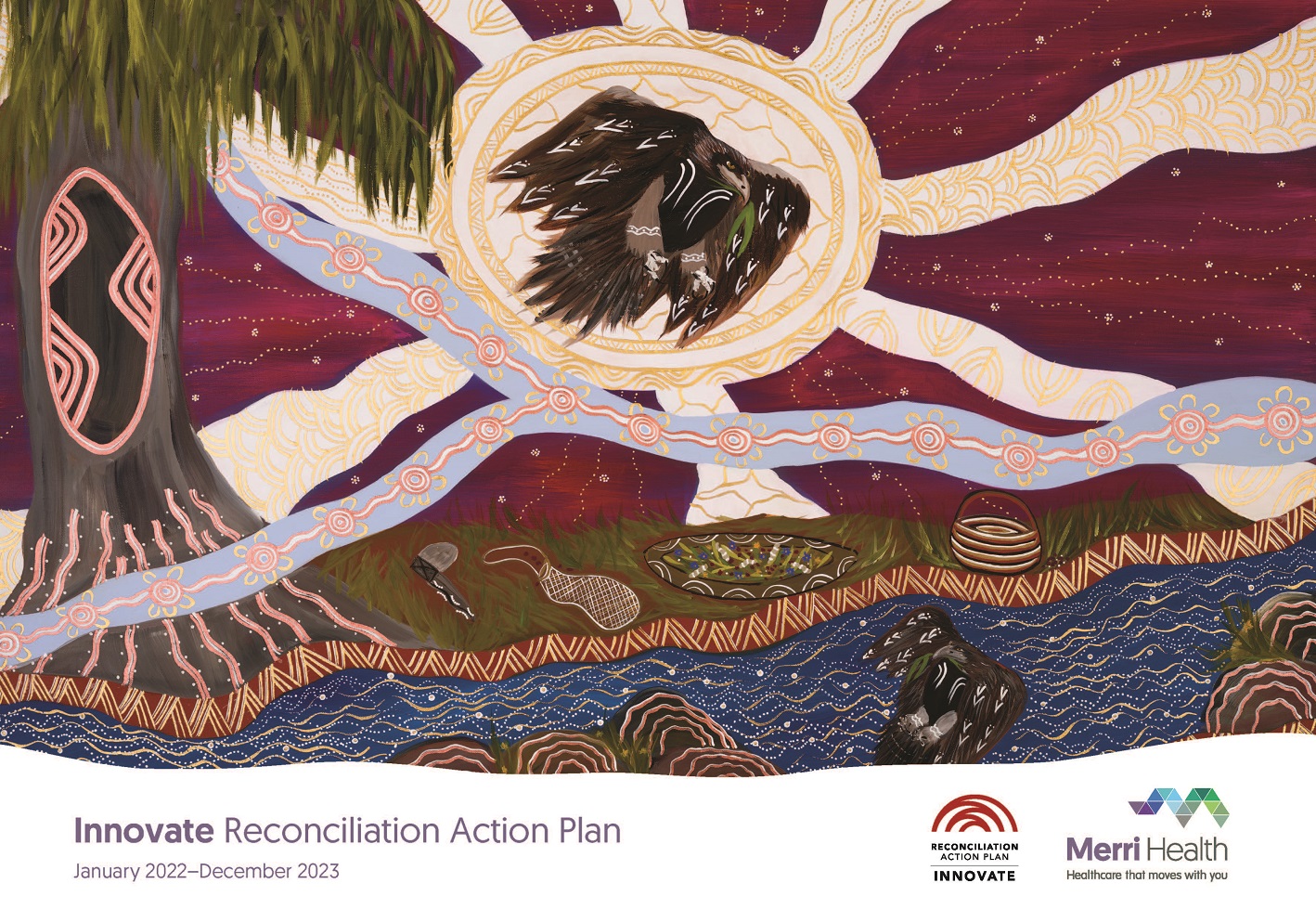 Published Apr 26 2022
Merri Health is proud to launch our Innovate Reconciliation Action Plan (RAP) 2022-2023, to support greater recognition, respect and health outcomes for Aboriginal and Torres Strait Islander communities.
Merri Health CEO Tassia Michaleas joined Aboriginal Elder Aunty Di, Victorian MP Sheena Watt, RAP artist Simone Thomson, local Aboriginal community members, Merri Health staff and partners to unveil Merri's new RAP.
Endorsed by Reconciliation Australia, the RAP details 72 commitments Merri Health will action across four focus areas: Relationships, Respect, Opportunities, Governance.
Merri Health CEO, Tassia Michaleas said: "There is still a significant gap in health outcomes between Aboriginal and Torres Strait Islander peoples and the broader Australian community. To change this, we know that recognition, respect and equality are vital."
As a health provider with services and partnerships across Victoria, we have an important role to play in leading change across our community. I'm so proud to present Meri Health's third RAP, which builds on our reconciliation achievements so far, and recognises the work we still need to do to close the health gap and see meaningful change for Aboriginal and Torres Strait Islander peoples."
Our Innovate RAP commitments include:
Enhancing health and wellbeing outcomes by improving the cultural safety and accessibility of Merri Health services and programs
Supporting local Aboriginal businesses to improve economic and social outcomes
Working with partners to address race-based discrimination, including providing upstander training at local schools to build a community of allies to call out racism
Improving employment outcomes by increasing Aboriginal and Torres Strait Islander recruitment, retention, professional development and student placements
Celebrating Aboriginal and Torres Strait Islander cultures and history to promote connection, collective pride and recognition
Recognising Aboriginal Country names in addresses on Merri Health materials and mail to build recognition and respect
 Merri Health works with community members and has a deep commitment to listening to and being led by the voices of Aboriginal and Torres Strait Islander peoples in our reconciliation efforts.  
 "To ensure we have meaningful outcomes, respect for Aboriginal and Torres Strait Islander peoples, their culture and knowledge must remain central to our work," Tassia said.
 The RAP launch opened with a moving Welcome to Country from Aunty Di and a Smoking Ceremony.
Merri Health unveiled a vibrant new RAP artwork by respected artist Simone Thomson and local Aboriginal acoustic artist Anna Liebzeit performed at the event.
Artist Simone Thomson shared her artwork story and said, "In the evening sky, Bunjil flies across a crystal moon. The moon represents Merri Health's commitment to shine a light on Reconciliation at all times of the day and night."
View our full RAP plan here.