Jo's Story (Dementia Action Week 20-26 Sept)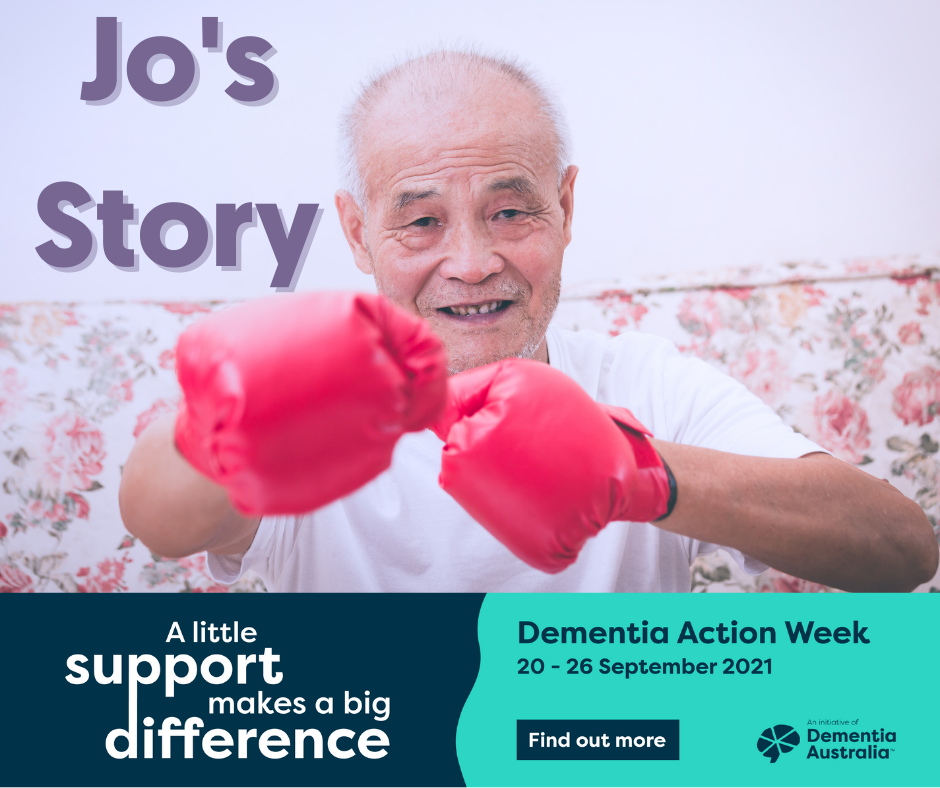 Published Sep 20 2021
When we first meet Jo, he is a 70 year old who lives alone in Melbourne. Jo was previously quite active and loved sports, especially boxing. However, for the past decade he has not participated in any structured exercise or activities. Jo's medical history includes hypertension, diabetes and more recently, obesity.
There are 12 dementia risk factors that impact Jo's risk of developing dementia:
Jo's dementia risk factors are:
Modifiable:
Physically inactive
Infrequent social contact 
Obesity 
Hypertension 
Diabetes
Non modifiable:
Air pollution 
Head injury
The good news is Jo has an opportunity to manage some of these risk factors now and in the future, for example through engaging in more physical and social activities.
Five years later Jo is now 75 and he has noticed a change in his memory, thinking and his ability to mobilise. Jo and his family wonder if this is 'normal aging'.
Jo decides to visit his GP who explains that his symptoms are not a normal part of ageing, and that getting a diagnosis can help take control and plan ahead. The GP explains that having an examination can exclude other treatable conditions that can cause memory loss such as depression, urinary tract infection, vitamin deficiencies, a brain tumour or thyroid problems (Alzheimer's Disease International). His GP refers him to a geriatrician. 
Benefits of timely diagnosis as described (Alzheimer's Disease International)
Jo can:
Gain access to information, resources and support for himself and those close to him
Demystify and destigmatise his condition
Maximise his quality of life
Benefit from support and access to drug and non-drug therapies that may improve his cognition
Plan for the future
Explain to his family, friends and colleagues what has changed in his life and how they can help him
On a practical level there is a lot that Jo can do:
Start making enquiries about what support services are available in his area for him and his family.
Review his financial situation and make decisions about legal affairs.
Consider reducing his hours or working with his employer to make reasonable adjustments so he can continue to work.
Consider participating in an early stage support group and form new relationships with others in a similar situation to share feelings, information and coping strategies.
Making lifestyle changes that may slow the rate of progression and/or improve level of function e.g. manage blood pressure, increase physical activity levels
After seeing a Geriatrician Jo is diagnosed with dementia. What is dementia? 
(Photo from: www.neofect.com)
Jo seeks support to help manage his condition and is referred to Merri Health Specialist Aged Services Team.
Merri Health's Specialist Aged Service team specialise in working with people living with dementia and their families. The team consists of Exercise Physiology, Nursing, Occupational Therapy, Physiotherapy and has access to an MBS Geriatrician (based at the Glenroy site).
How can each of these disciplines help maintain and manage Jo's function?
Exercise Physiology
Exercise Physiology can assist Jo with increasing his physical activity and managing his chronic conditions (diabetes, hypertension and obesity) through exercise programming. Jo will also be provided with education regarding the benefits of exercise, and the type and frequency that is best suited to him. Jo will be prescribed with an individualised aerobic and strength-based exercise program. The Exercise Physiologist can also help link Jo into community-based exercise groups or sporting/leisure centres to provide sustainable physical activity and social engagement.
Community Nursing
The Continence Advisory service can provide multiple strategies to assist in managing incontinence and increasing Jo's confidence to continue with his activities. Behavioural strategies such as identifying patterns with toileting and fluid intake, also looking at sensory issues that may be effecting toileting habits. Diet and fluid advice can be provided that may improve bladder and bowel issues. Products such as pads, aids, bedding and furniture protection for continence management may assist Jo to continue with his love of sport and help manage his obesity. Jo can be linked with allied health for referrals via MAC to assist with mobility, exercise plan, home safety or provide aids to making toileting safer and more accessible
Occupational Therapy
Occupational Therapy can provide Jo and his family with strategies to help manage changes to his memory and allow him to continue to live as independently as possible. This could include interventions to enhance Jo's function, provide opportunities for Jo to engage in activities that are meaningful to him, and recommend environmental changes and assistive technology to enable Jo's occupational participation. Specialist Aged Services can also work with Jo and his family through the COPE program that aims to support a carer to develop knowledge and skills in supporting a person living with dementia through the changes they may experience over time.  www.copeprogram.com.au
Physiotherapy
Physiotherapy can assist Jo to maintain his mobility and independence for as long as possible and reduce his risk of falls. Our Physiotherapist will consider the impact of changes in Jo's perception, attention and ability initiate movement in any management plan. Interventions could include bed mobility and transfer training, gait training, balance training, exercise programming, and gait aid prescription. The Physiotherapist will also provide Jo and his family education regarding falls prevention strategies, and education regarding the mobility and gait changes that can occur with dementia and strategies to manage these.
Please note this story is created for the purpose of raising awareness of dementia.