International Women's Day celebrations #EmbraceEquity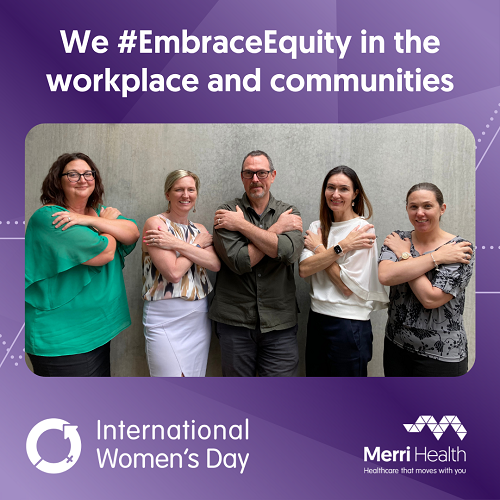 Published Mar 07 2023
Merri Health leaders and staff will join across the organisation to champion women's achievements and gender equity on International Women's Day, 8 March.
International Women's Day (IWD) is a global celebration of the social, economic, cultural and political achievements of women. This year's theme is #EmbraceEquity.
Merri Health recognises gender inequality is a health issue and key driver of family violence and actively works to drive change.
Maryanne Tadic, Acting CEO said, "We are deeply committed to creating a better future for our community and workforce that is gender equitable, free of violence, safe and respectful.
"Alongside our work, we proudly celebrate initiatives that promote respect for all gender identities, and we're delighted to recognise the unique contributions and achievements of women on IWD."
Leaders across Merri will share their 'leadership journeys and lessons' in a special staff event to support others navigating their careers and workforce gender equity.
Merri Health is proud to be an Employer of Choice from the Workplace Gender Equality Agency, which recognises our achievements in closing the gender pay gap, providing flexible work arrangements and a supportive culture for people of all genders.
We also advocate for gender equality and the prevention of family violence through services including our Victims Assistance Program, Keeping Our Pets Safe Project and leading the Elder Abuse Prevention Network in Northern and Metropolitan regions.
On IWD and everyday Merri Health is committed to promoting gender equity, challenging inequality, calling out bias, questioning stereotypes and helping to forge an inclusive world.