Cutting edge communication device approved for Merri Health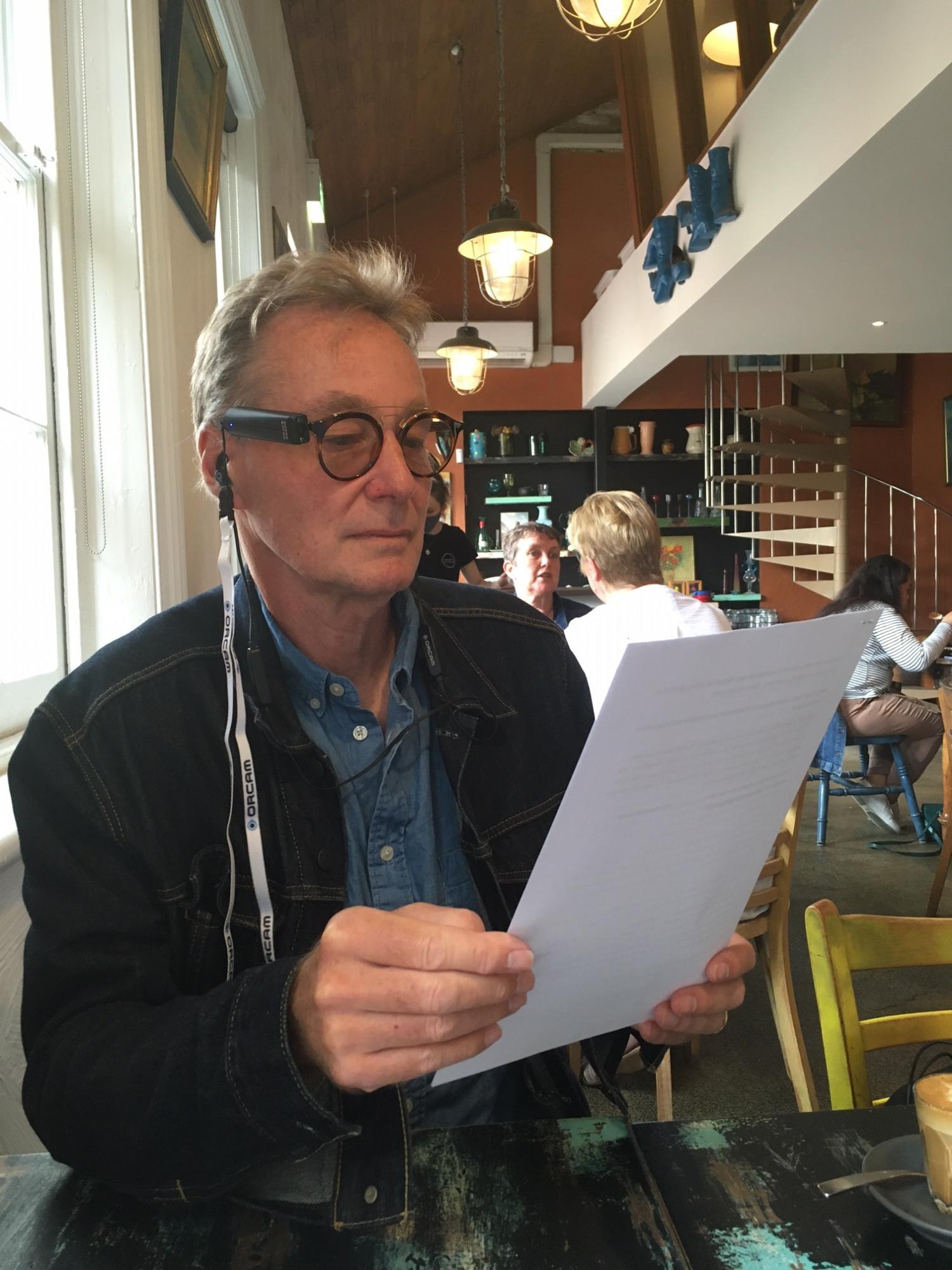 Published Dec 10 2020
By Elly Barbagallo
---
Kym, a father and an AFL fitness coach, had a heart attack and stroke in his fifties which left him with a severe communication impairment. He was diagnosed with aphasia – a condition brought on by the stroke – that affects reading, writing and understanding language.
There are one in 240 people who have symptoms of aphasia in Australia.
For Kym, having aphasia has impacted his word-finding, numeracy and reading abilities. With the help of his Merri Health team, speech pathologist Philippa Sawyer and occupational therapist Craig Jackman, the now 61year old has received an NDIS approved, cutting-edge technology device to help him communicate. The MyEye features a camera that attaches to Kym's glasses with a tiny speaker resting above his ear. It is easy to carry around and lightweight. It allows him to read books, menus, signs and labels and has improved his overall confidence and independence. 
The funding and support from Kym's NDIS plan has allowed him to work with the Merri Health Allied Health team to meet his NDIS goals. However, Kym had been struggling with the assistive technology that is available on the market. It is time consuming and does not suit his purposes. Kym's team provided evidence to the NDIS that this current technology was not suitable for his needs and was not meeting his NDIS goals. This is how Kym got the MyEye.
Philippa says she can already see improvement in Kym's reading and communication skills:
"It took a significant amount of time and work to successfully apply for the MyEye. I'm so glad that I'm able to assist Kym with meeting his communication goals."
Kym is overjoyed saying "the device is amazing because it can help people. They did a great job because they got this for me." 
Kym is now an advocate for other people with aphasia. He would like to have the MyEye available to more people with this condition. With the help of Philippa, he is looking at ways to create awareness in the aphasia community. He has publicly spoken out about his experience in a series of YouTube videos and continues to work with Aphasia Victoria.
Click here for more information about the MyEye.