Merri's Multicultural Ambassador for the Mental Health Foundation Australia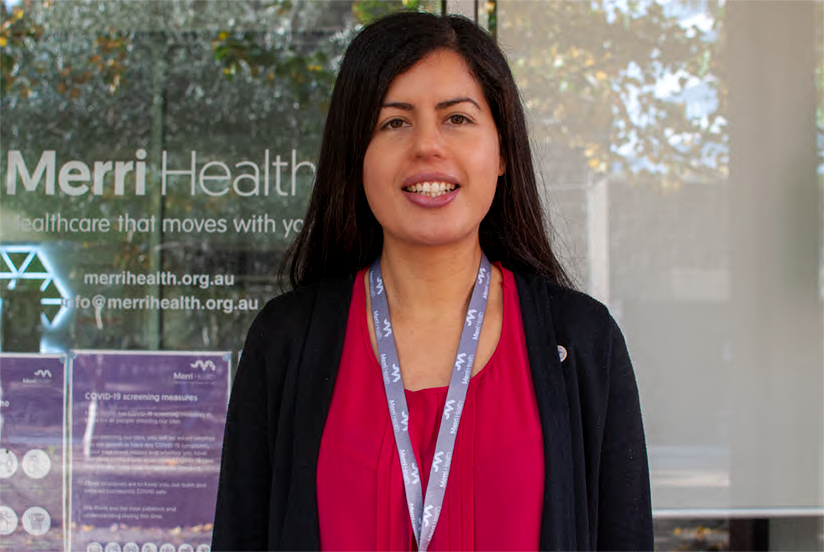 Published Aug 16 2021
Merri Health's Aged Care team member Georgia Khyabani scores important role
Georgia Khyabani, Italian-born student and Aged Care Support Worker with the Living Well Ageing Well team has been appointed a Multicultural Ambassador for the Mental Health Foundation Australia (MHFA) 2021.
After twelve months of attending learning and professional development workshops through her membership, Georgia was nominated and excitedly accepted the role. The advocacy position allows Georgia to connect the MHFA with local culturally and linguistically diverse (CALD) communities through awareness and engagement programs.
Promoting its vision of "better mental health for all", the MHFA foundation focuses on engagement and inclusion in order to reach more than 7 million Australians born overseas.
MHFA membership offers educational resources such as community education seminars, a school program targeting early intervention and various mental health, CALD and family support groups.
Georgia is passionate about representing her workplace and local community:
"I feel honoured to be able to take part of the Multicultural Ambassador Project with MHFA as this has enabled me to take actions to increase Mental Health awareness within the community, especially in such a significant, crucial time.
As a Merri Health employee, I am proud to be able to contribute to the enhancement mental health wellbeing within the community thanks to my appointment as a Multicultural Ambassador."
- Georgia Khyabani - Aged Care Case Worker, Living Well Ageing Well
See more about Georgia 
Find out more on Mental Health Foundation Australia 
Merri Health's Living Well Ageing Well program for 50's and over
Want to get involved in National Mental Health Month?
Official Launch of National Mental Health Month, October 1
Mental Health Exhibition – 12 October
Walk for Mental Health – 17 October
Full list of events: https://www.mhfa.org.au/cms/national-mental-health-month-2021
Elly Barbagallo