Confident Kids, Positive Parents webinar - Dr Deeta Kimber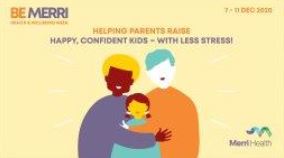 Details
Date

Dec 10 2020

Time

8pm-9pm

Address

Online via Zoom
Learn tips on raising happy, confident kids - with less stress!
Join us for the second of our two exclusive webinars with Dr Deeta Kimber, child, adolescent and adult psychiatrist for Be Merri Week 2020.
Dr Kimber guides you through through simple steps to:
- Track your stress
- Calm yourself and your child
- Use play and cuddles to build closer relationships 

Sign up for Webinar  Thursday 10 December 8PM: Take-care-of-yourself-first parenting & build closer relationships through cuddles and play 
Receive an activity book with useful tips and activities to help you manage your wellbeing and better understand your child's behaviour when you register.