Be Merri Health & Wellbeing Week 2020!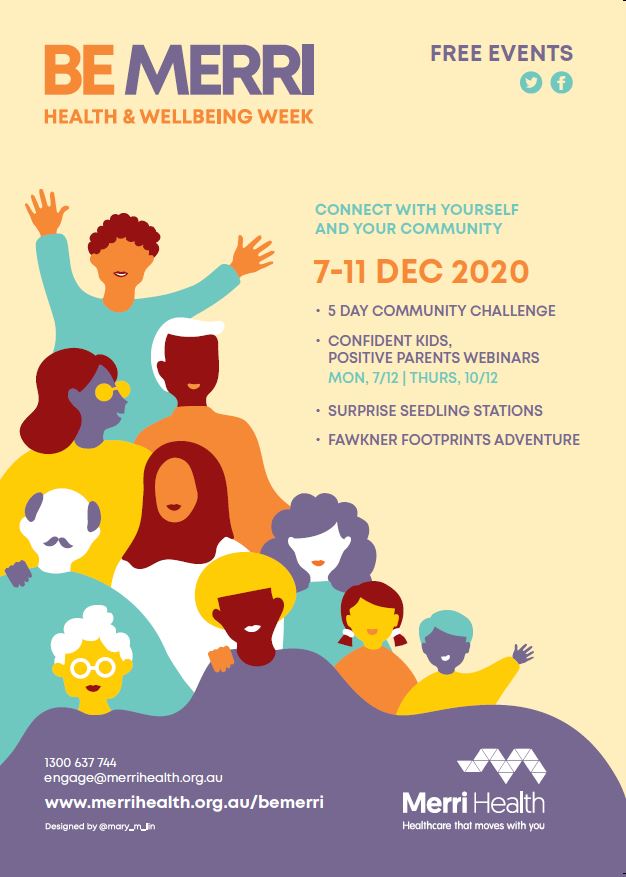 Details
Date

Dec 7–11 2020

Address

Activities online and across Moreland and Fawkner
Be Merri Week is is back 7-11 December, full of fun activities for you, your family and friends.  

There's things to do at home and COVID-safe activities you can do outside, in your own time. Boost your health, happiness and wellbeing. Connect to yourself and your community.
Get involved and Be Merri!
Join our 5 day Community Challenge!
5 Day Community Connections Challenge - sign up, get a daily challenge and connect with your community! 
Learn tips on raising happy, confident kids - with less stress!
Confident Kids, Positive Parents - Dr Deeta Kimber webinars. Raise happy, confident kids with less stress! Register now.
Grab your passport for an adventure through Fawkner!
Fawkner Footprints Adventure - grab your 'passport' for a journey through Fawkner with fun activities
Discover our surprise seedling stations and pick up a free plant!
Seedling Surprise - discover 'Surprise Seedling Stations' across Moreland and pick up a free plant!