Merri Health Carer Peer Support Program July - Aug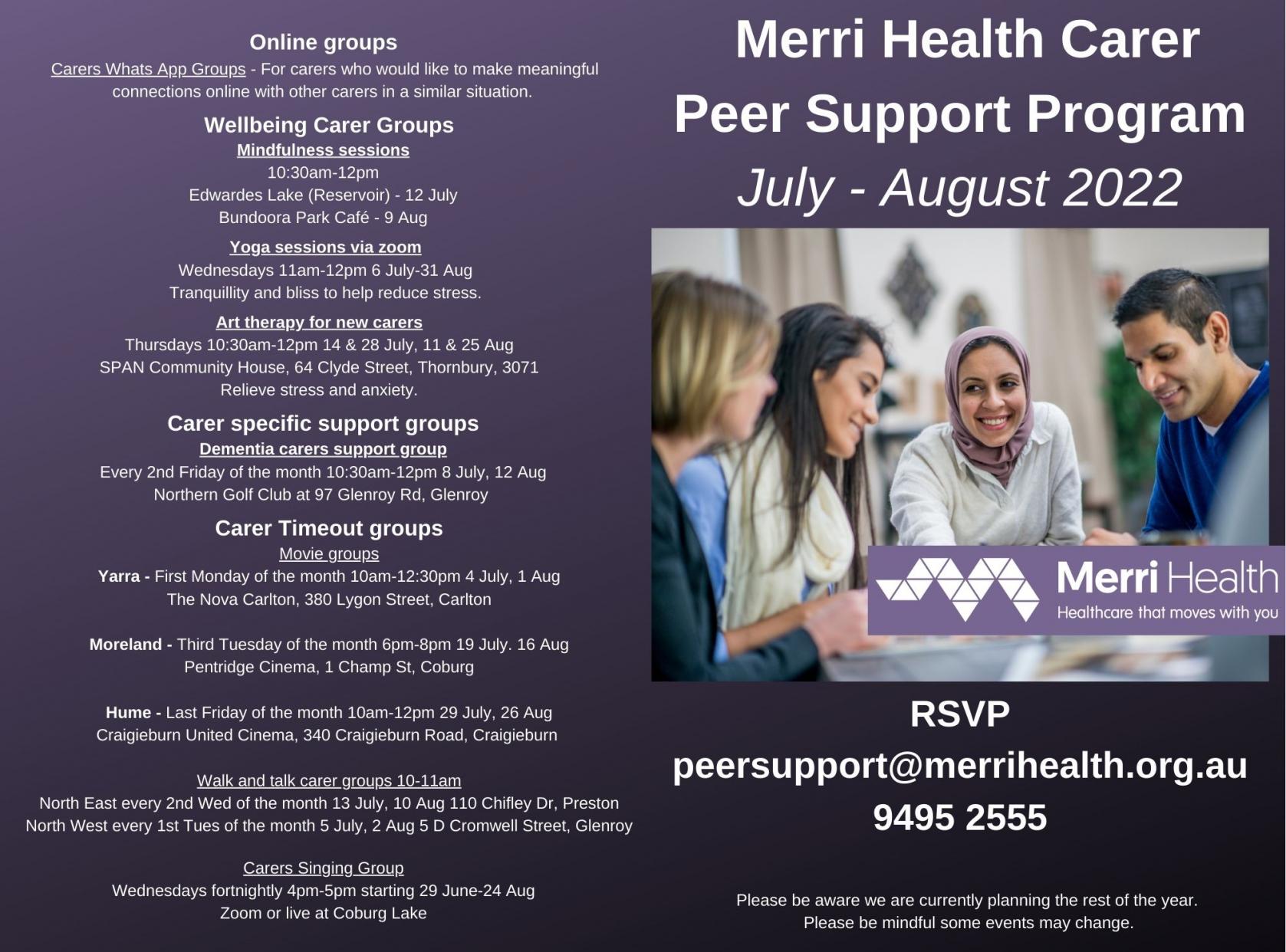 Details
Date

Jul 1–Aug 31 2022
Register now!
peersupport@merrihealth.org.au
9495 2555
These events are only for carers in Melbourne's Northern regions that are registered with Carer Gateway.
To register call Carer Gateway on 1800 422 737, Monday to Friday, 8am to 5pm local time or visit carergateway.gov.au
Online groups
Carers Whats App Groups - For carers who would like to make meaningful connections online with other carers in a similar situation.
Wellbeing carer groups
Mindfulness sessions - 10:30am-12pm
Merri Health is proud to offer another wellbeing session to help carers connect in peer support. A great opportunity to learn a new mindfulness approach and take time out from your caring role!
The sessions will be led by one of our counsellors, who is passionate about the benefits of mindfulness in nature – for the therapeutic aspect and just for the sheer enjoyment of it!
Edwardes Lake (Reservoir) - 12 July
Bundoora Park Café - 9 Aug
Yoga sessions via Zoom
Merri Health welcomes carers to join our yoga wellbeing sessions running every Wednesday. The yoga sessions aim to help carers connect in self care and with other carers.
Wednesdays 11am-12pm 6 July-31 Aug Zoom or occasional live sessions. 
Tranquillity and bliss to help reduce stress.

Art therapy
Join a safe and supportive environment to help:
Relieve stress and anxiety
Express yourself through art
Connect with others
No art skills required - all materials will be provid
Thursdays 10:30am-12pm 14 & 28 July, 11 & 25 Aug 
SPAN Community House, 64 Clyde Street, Thornbury, 3071, relieve stress and anxiety.

Dementia carers support group  
For registered carers of people living with Dementia in the Northern Metropolitan region of Melbourne, interested in meeting other carers in a similar role.
Come along and share experiences, stories and assist each other while continuing to care for someone living with Dementia.
Our Peer Facilitators will be there to support you.
Every 2nd Friday of the month 8 July, 12 Aug 10:30am-12pm
Northern Golf Club at 97 Glenroy Rd, Glenroy 

Carer Timeout groups
Movie groups
Join us for a movie and a meet up!
If you're a carer, take some time out from your caring role and meet other carers.
Yarra - First Monday of the month 10am-12:30pm 4 July, 1 Aug
The Nova Carlton, 380 Lygon Street, Carlton

Moreland - Third Tuesday of the month (except Dec) 6pm-8pm  19 July. 16 Aug
Pentridge Cinema, 1 Champ St, Coburg
Hume - Last Friday of the month 10am-12pm 29 July, 26 Aug 
Craigieburn United Cinema, 340 Craigieburn Road, Craigieburn
Walk and talk carer groups 10-11am
North East 2nd Wednesday of the month  13 July, 10 Aug Meet at 110 Chifley Dr, Preston
North West every 1st Tuesday of the months 5 July, 2 Aug Meet at 5 D Cromwell Street, Glenroy
Carers Singing Group
If you are a registered carer, come along for a great opportunity to learn how to use your voice in song, take time out from your caring role and feel supported with peers.
Learn singing techniques, stagecraft, and have fun connecting with other carers. All carers are welcome, and even if you've never sang before, it's all about connecting!
Wednesdays fortnightly 4pm-5pm 29 June-24 Aug Zoom or live at Coburg Lake