Welcome to Be Merri Week 2020!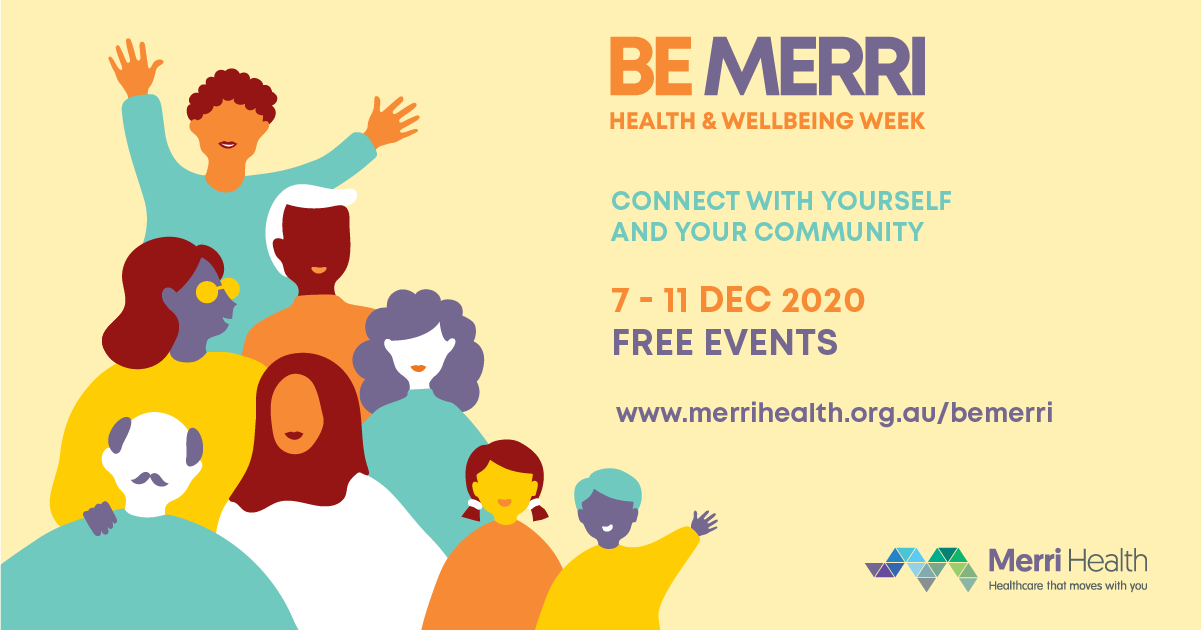 Be Merri Week is back 7-11 December, full of fun activities for you, your family and friends.  

There's things to do at home and COVID-safe activities you can do outside, in your own time.

Get involved and Be Merri!
---
Join our five day Community Connections Challenge!
Write a letter to your neighbour, learn how to say hello in five languages, and more! 
Sign up and receive a daily challenge and tips to get closer to your community, all in your own time. 
---
Learn tips on raising happy, confident kids - with less stress!
Join us for these two exclusive webinars as Dr Deeta Kimber, child, adolescent and adult psychiatrist guides you through simple steps to:
- Track your stress
- Calm yourself and your child
- Use play and cuddles to build closer relationships 

Sign up for webinar 1, Monday 7 December, 8PM: 
Track your stress, gain control and boost your health and happiness

Sign up for webinar 2, Thursday 10 December 8PM: 
Take-care-of-yourself-first parenting & build closer relationships through cuddles and play 
---
Grab your passport for an adventure through Fawkner!
Find the pirate ship, spot some native birds, cook something new and so much more!
You passport is full of fun activities to do on your own, with a friend or family member. 
Fawkner Footprints will be distributed to Fawkner homes during Be Merri Week. Missed out? Pick one up at the Street Library on James St, Fawkner. Or download your copy here.
We'd love to see photos. Tag us on Facebook @MerriHealth or email them to Engage@merrihealth.org.au! 
---
Pick up a free Seedling Surprise at one of our stations around Moreland!
Do you have a green thumb? We have surprise seedling pots available during Be Merri Week for you to pick up, take home and care for!
Which plant variety will you discover? Check out planting and care tips for your new seedling here.
Check out @MerriHealth to keep up to date where the Seedling Stations pop up!
---
If you have any questions about Be Merri, contact us!
Remember to be COVID-safe while you participate.